The SmartOffice 6 Training Center provides access to training movies, fast classes, live training information, user guides and more.

To access the SmartOffice 6 Training Center:
Log in to SmartOffice 6.
Click on the Help/Training link in the upper right-hand corner of the screen.
Then click Training.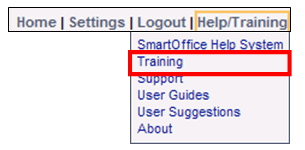 Here you will find resources for all of your training and support needs including:

- Online Training Movies
- Fast Classes
- Free Live Web-based Training
- Technical Support Information
- User Guides


Contacting Our Training Department


If you would like to schedule customized web-based or on-site training sessions, please contact Marlon Urias, Manager, Training Services at (626) 585-3505 ext. 7312 or marlon@ez-data.com.

Free Live Training Classes


E-Z Data's live training classes are designed to help customers get the most out of SmartOffice's core features. Topics covered include the calendar, contacts, reports and administration, just to name a few. These free classes are offered on multiple dates to accommodate your busy schedule.


Getting Started


For new SmartOffice users, watch the Getting Started Class and download the Getting Started User Guide to familiarize yourself with the basics of SmartOffice.


Office Settings and Administration User Guide


Download the Office Settings and Administration Guide to get your office up and running as quickly as possible. The guide addresses many of the questions a SmartOffice administrator may have about configuring the office.


SmartOffice System Requirements Guide


Download the SmartOffice System Requirements Guide for the latest system requirements.