---
---
Creating Letter Templates

Document templates speed the letter writing process by allowing you to "program" certain information to appear automatically each time you write a letter (e.g., your company logo, the current date, the letter salutation and closing, etc.). All you have to do is type the body of the letter and you're finished!

We'll walk you through adding a customized template to your system.

1. From the Client Data System desktop, click on Tools then E-Z Editor. A blank document will appear.

2. Use text, merge codes, logo files, etc. to create your custom template. Shown below is a sample of a standard document template.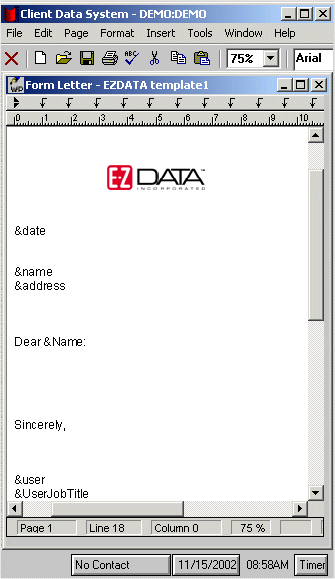 3. When finished, click File, Save As, then Form Letter.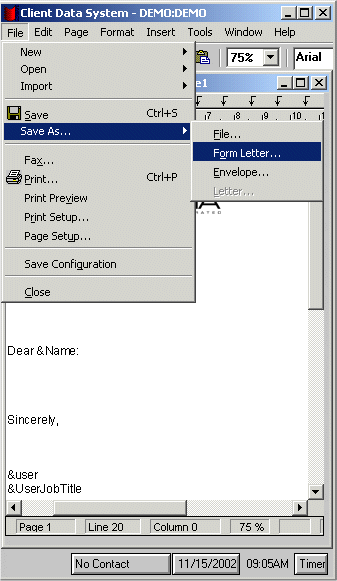 4. Enter the document description then press Tab. The word "template" must appear somewhere in the Keywords field for the Client Data System to recognize this particular document as a template. You may enter just the word "template" or you may enter something more descriptive such as: Susan's Template, Template for Office, etc.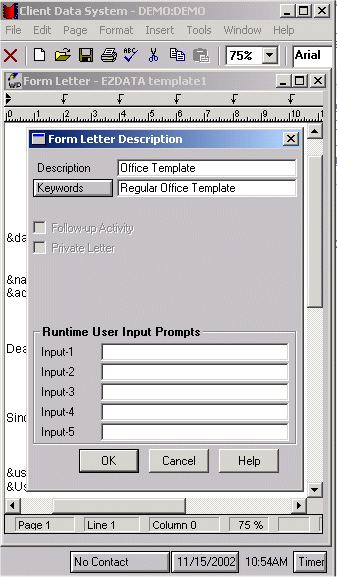 5. Click Ok then exit out of the letter screen.

6. Now let's use the template. Go to a Contact record and click on the Letters icon.


7. Click the Options button from the Letters window.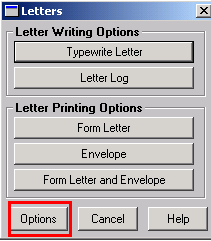 8. Make sure that E-Z Editor is selected. All document templates created in E-Z Editor (those with the word "template" somewhere in the Keywords field) will appear in the Default Letter Template drop down list. Select the template that you just created and click OK to save the changes and return to the Letters screen.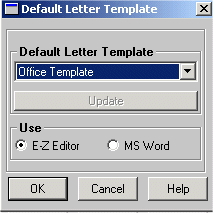 9. Now when you select the Typewrite option (or when you create a new form letter from the Desktop), your default template text will appear on the screen.


In the next E-Z News: How to create templates using E-Z Word.