Subject: E-Z News Vol. 7: Recurring Activities


Volume 7

e-Z News is designed to help you maximize your use of the Client Data System (CDS) program. Watch your e-mail for each
bi-weekly edition featuring tips, tricks and how-to's.
---
---
Tip of the Week:

Creating a Recurring Activity
For our example we are going to create a Recurring Activity for our sales meeting next year that occurs on the last Friday of every month at 10:00 a.m.
From any calendar view, click Add.

You are now presented with the Activity Detail screen. Here you can create the details for the activity such as date/time, type, subtype, etc. Once you have completed this screen click Recurring.
*Note: You cannot modify an existing activity and make it Recurring. You must create a new activity.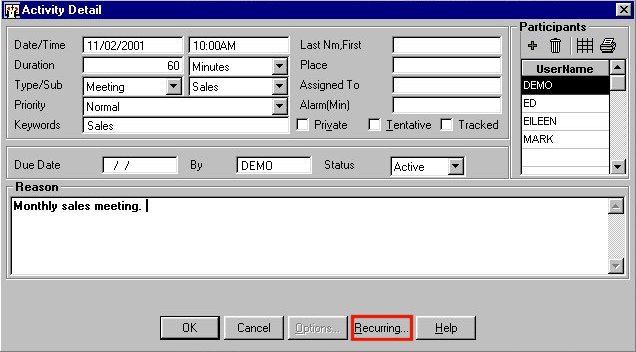 Let's enter the specifics for this Recurring Activity.
Once you have completed this section click Add. Click OK.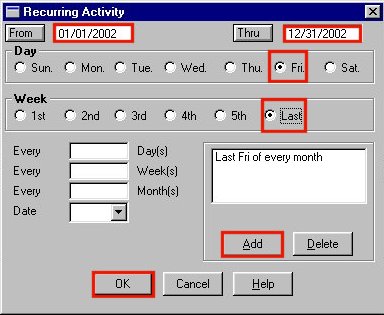 The Activity Detail screen automatically appears. You can make any last minute changes to the activity from here. Click OK.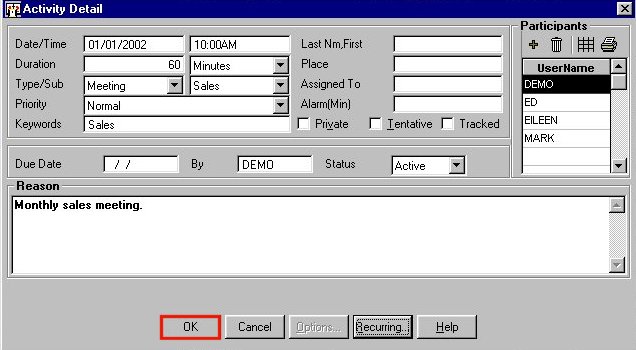 You will now see CDS posting the activities to the calendar.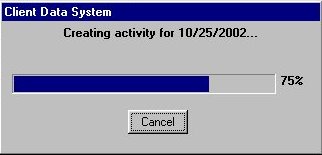 In t

he next E-Z News:

Polic

y Summary Setup
If you have any ideas for future e-Z News editions, or know someone who would benefit by receiving e-Z News, please email Sam at sam@ez-data.com. If you would prefer not to receive e-Z News please email Sam and type "unsubscribe" in the subject line.

918 East Green Street
Pasadena, CA 91106
(626)-585-3505
© 2001 E-Z Data Inc. is a registered trademark of E-Z Data, Inc.